15-year old tennis prodigy Coco Gauff, has taken the world by storm over the past 10 days, defeating women's tennis icon Venus Williams in the first round before storming through another two matches on route to the second week.
But her electric sporting ability is not the only captivating thing about this talented young woman — she has also shown tremendous character, spirit and faith throughout these wild, adrenaline-fueled days spent thumping tennis balls around the hallowed grass courts of the All England Club.
Following her momentous win over former champion Venus Williams, Gauff graciously thanked the champion for everything she has done for the sport. "She's been an inspiration for many people," Gauff told the New York Times. "I was just really telling her thank you. I met her before, but I didn't really have the guts to say anything."
Then, the youngster knelt down by her chair for a prayer — a spiritual practice that sticks with her ever since her Dad suggested the pair pray together before heading out on the match court.
Christian Soccer Player Refuses To Wear Gay Pride Jersey, Withdraws From National Team
"Before every match, since I was 8, my dad and I say a prayer together," Gauff explained. "We don't really pray about victory, just that me and my opponent stay safe. After the match, I was just thanking God for this opportunity."
It is a story that, with each win, just kept getting that bit more remarkable.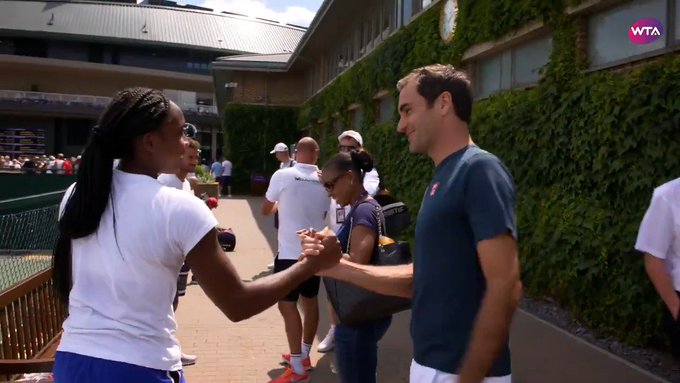 Gauff was on her way to train in the south of France when she received a call from organizers at the Wimbledon qualifiers, offering her a wildcard — an extraordinary thing to happen to someone ranked 313th.
Lifelong, Famous Atheist Bill Hayden Receives Jesus At 85
Coco immediately changed her plans, caught a flight to South West London and ended up storming through her qualifying matches, before drawing Venus in the first round of the main draw. "Obviously, I literally got my dream draw," she said.
Now, with a wonderfully impressive Grand Slam debut to build upon, Gauff was quick to credit her dad for instilling the deep-rooted confidence that is likely to serve her well for years to come.
"My dad told me that I could do this when I was 8," she said.
"Obviously you never believe it. I'm still not, like 100 percent confident. But, like, you have to just say things. You never know what happens. If I went into this match saying, 'Let me see how many games I can get against her,' then I most definitely would not have won. My goal was to play my best. My dream was to win. That's what happened. I think people just kind of limit themselves too much."
"We're surprised it is coming as soon as it is," Coco's parents said of her staggering rise to the upper echelons of the game. "But we're not surprised about her potential."
Muslims Turning To Christ In Great Numbers Through Dreams And Visions