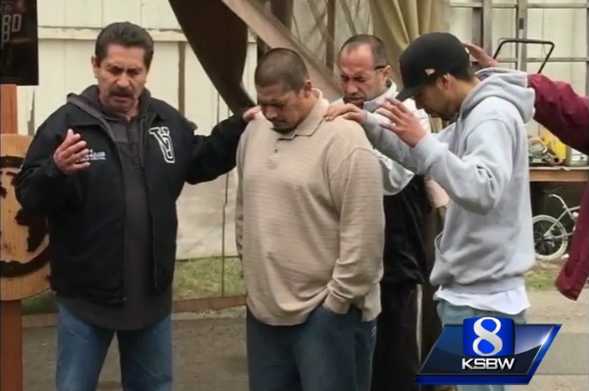 A Californian pastor who was known for working with the addicted and those involved in street life was stabbed to death on Tuesday evening after going outside to counsel with and pray for one of his members.
The 68-year-old pastor Herbert Valero, of Victory Outreach Church in Salinas thought he was just stepping out of the house to pray with Servando Silva, 37, but was suddenly stabbed in the neck with a drywall saw. He had told members that they could come to his house anytime they needed help.
"Pastor Herb told his family he was going to be outside praying with Silva. A few minutes later, Pastor Herb ran into the house holding his neck. He stated Silva had stabbed him," Salinas Police Department Sgt. Christopher Lane told KSBW-TV.
His family immediately called 911 and Silva fled the scene. Emergency responders performed CPR, but were unable to revive Valero, and he was pronounced dead at the scene.
Police contacted Silva's family and instructed them to advise when he returned home. Later that night, as patrol units were out looking for Silva, one of his relatives called 911 to notify officials that he had arrived. Silva was taken into custody and charged with first-degree murder, assault with a deadly weapon and violating his probation.
He had previously been convicted of assaulting an elderly person with a deadly weapon and was on probation. Silva is being held on $1 million dollars bail.
Police do not know the motivation for the crime, but state that it is not believed to be gang-related.
"That's one of the things we're not sure if truly we're ever going to be able to answer," Cmdr. Stanley Cooper told the Mercury News, referring to pinpointing a motive. "At the time of the stabbing, it was only the two of them that were out in front of the pastor's house."
q