Jakarta's first Christian governor has conceded defeat to a Muslim former government minister in a vote seen as a test of Indonesia's secular identity.
Basuki Tjahaja Purnama congratulated his rival after exit polls showed Anies Rasyid Baswedan clearly ahead.
Critics of Mr Purnama had accused him of blasphemy, heightening racial and religious tensions. Mr Baswedan was accused of courting hardliners.
The new mayor takes office in October. Official results come in May.
"We now will come together and forget this campaign. Jakarta is home for all of us," Mr Purnama, popularly known as Ahok, said in a nationally televised news conference.
"We understand that our supporters are disappointed. But don't dwell on it."
Mr Baswedan hinted he would try to heal divisions, saying: "We celebrate diversity… We are all ready to work together again."
Who is Jakarta's new governor?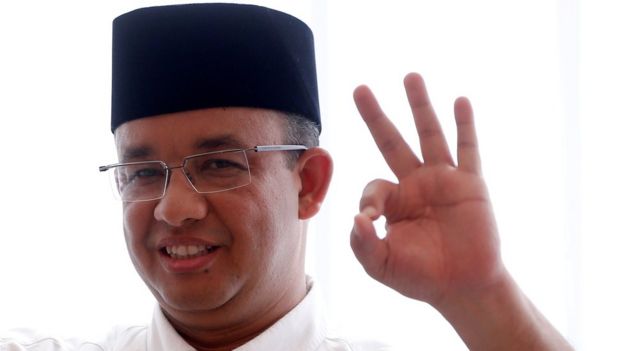 Anies Baswedan is a respected academic and a former university rector, who studied in the US under a Fulbright scholarship
Known to be a moderate Muslim, but attracted criticism when he met publicly with Islamist groups during his campaign. His team insists he remains a pluralist
Former education and culture minister dropped from President Joko Widodo's cabinet last year in a reshuffle
Has pledged to improve public education, contain living costs and end forced evictions
Hardline Islamist groups say Mr Purnama, a Christian of Chinese descent, insulted a Koranic verse during a campaign speech and have rallied large crowds against him in recent months. He is now on trial for blasphemy, which he denies.
Indonesian Prosecutors Demand Jakarta Christian Governor Be Jailed For One-year
Correspondents say this made the election a choice between secularism and a growing hardline Islamist movement.